What on earth is a tiger nut?
Tiger nuts are not nuts, but are actually a tiny root vegetable. Today they are mostly grown in Spain and in Africa although we know that tiger nuts were cultivated thousands of years ago by the Egyptians, and tiger nuts were even eaten by our Palaeolithic ancestors!
Tiger nuts are also known as 'chufa' or 'earth almond' and their latin name is Cyperus esculentus. Tiger nuts are found on the roots of the plant which is a sedge grass, and in fact have more in common with an artichoke that a nut!
Tiger nuts are an amazing superfood packed full of nutrients and fibre. They are particularly good for gut health because they prebiotic fibre. They are also good for your heart, and skin as they contain lots of anti-oxidants. They are even said to be able to boost fertility and your sex life!
Tiger nuts can be eaten raw, cooked and also enjoyed as a delicious drink known as 'horchata' or tiger nut milk.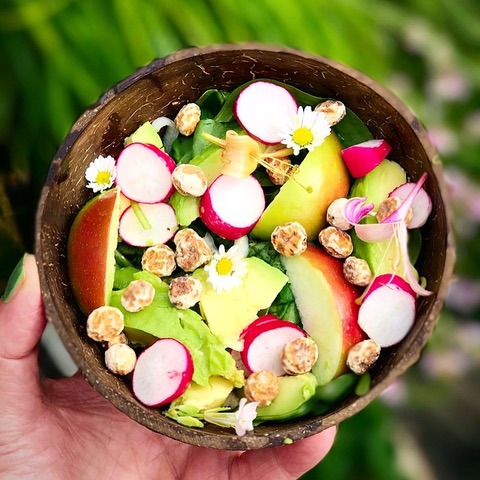 We want to to inspire everyone to eat healthy and delicious food.
We want to help educate to improve health and wellness.
We want to support tiger nut growers and communities to earn a fair wage and help improve their lives.
We want to support sustainable and ecologically friendly farming to help the planet.
We want to spread #tigernutlove across the globe!
Courtesy of Rude Health
TIGER NUTS are seriously GOOD for you!
Good Guts
prebiotic fibre
A daily helping of tiger nuts can help you feel HEALTHY and HAPPY!
Understanding the difference between a prebiotic and a probiotic is vital – Probiotics are "good" bacteria that help keep your digestive system healthy by controlling the growth of harmful bacteria. Prebiotics are carbohydrates, that gets to your gut and feeds your good gut bacteria!
High Fibre
fibre for health
A fibre rich diet can help to promote bowel transit, prevent constipation, diverticulosis, bowel cancer and haemorrhoids. Dietary fibre can also help obesity by keeping us fuller for longer and helping slow the release of glucose and insulin. Soluble fibres have been shown to help normalise serum cholesterol levels by binding directly to cholesterol, decreasing the chance of re-absorption and promoting excretion.
Low Sugar
reduce sugar consumption
People are eating more sugar than ever before, and experts now know that it can damage our health in many ways. Adding sugar is associated with diabetes and weight gain. Whilst naturally occurring sugars in whole foods such as fruit and vegetables are ok - we need to cut down on 'free sugars' which is sugar that is added to food and drink. The natural sweetness of tiger nuts can help you cut down your sugar consumption.
Making tiger nut milk is simple, watch the video below to see just how easy it is ...
Win a Tiger Nut
Milk Kit in our Recipe Competition!
We want to see all of your tiger nut recipes and creations! We will be giving away one of our fabulous Tiger Nut Milk Kits to the best and most delicious tiger nut recipe we see. To enter simply tagging us in any tiger nut recipe or creation you have made - you can enter as many times as you like - simply use the #tigernutday2019 on Instagram, Twitter or tag us on Facebook.
Courtesy of The Tiger Nut Company
You can also enter to win an amazing hamper of tiger nut goodies in the
Tiger Nut Hamper Giveaway!
We have an amazing hamper packed with over £100 worth of tiger nut goodies to giveaway including;
A super eco-friendly box from Authentic House with a tiger nut milk making kit, a dish washing soap block, a coconut fibre scourer and a bread bag, a Tiger Nut Company Taste of Spain Hamper, with raw chocolate and chufa de valencia, 3 cartons of Tiger Nut Company Pure Tiger Nut Milk, 3 bags of Raw Energy Balls Chocolate & Orange, 3 bags of Raw Energy Balls Ginger and Date, a gorgeous new Plant Milk Power recipe book, a jar of the new and delicious Peanut and Tiger Nut Butter from Meridian Foods, 3 x cartons of Rude Health Tiger Nut Drink, 2 x cartons of Raw Gorilla's Original Crispies , and 2 x bags of Raw Gorilla's Apricot, Baobab and Tiger Nut Munchies!
For details on how to enter you can…
Get tasting and try something new and delicious!
You can get involved with the fun and celebrate Tiger Nut Day by making something new delicious and healthy at home or with friends. Here is a selection of recipes from our tiger nut partners across the globe! Recipes for breakfast, lunch, dinner, and even snacks.
Tiger Nut biscuits
A simple and delicious recipe for gluten free biscuits that are vegan and sugar free!
tiger nut carob waffles
A delicious and simple recipe for healthy carob waffles
snickers style magnum Ice Cream
Creamy with a hint of sweetness. A hot twist on a Valencian classic!
Raw Tiger Nut Cheesecake
An amazingly simple and delicious version that is paleo, vegan and gluten free
tiger nut expresso martini
Add razzmatazz to your liquor routine with this easy recipe.
Gorgeous gut juice
A brilliant way to help boost your gut health
Tiger Nut Macaroons
A brilliant healthy gut healing snack from Be Good to your Gut by Eve Kalinik
Tiggy chocolate crackers
A delicious and fun recipe for crackers that are packed full of taste.
chocolate sable cookies
A healthy paleo, vegan version with a gorgeous buttery taste!
Follow us and join in the Tiger Nut Fun!
Promoting Health & Wellness around the globe
with tiger nut love!